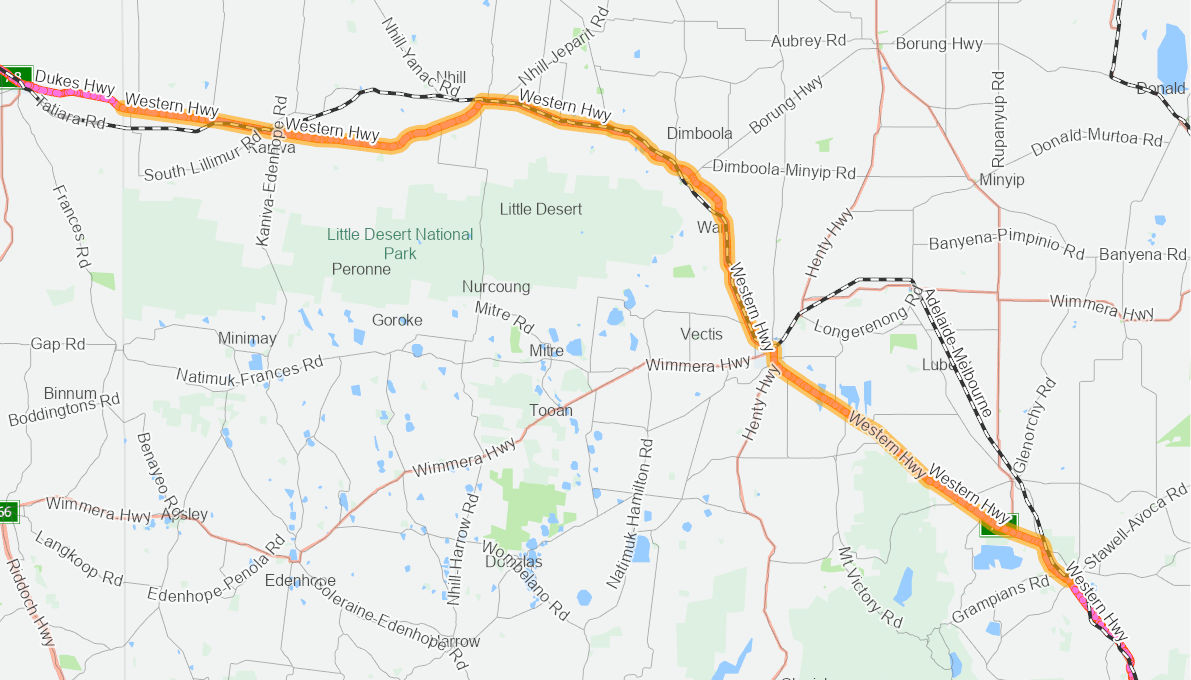 Funding program

Roads of Strategic Importance

Status

Underway

Transport mode

Road

Expected start/finish

Mid 2020 - Mid-2029

Estimated project cost

$42,707,625

Australian Government contribution

$36,943,500

State

VIC
Project description
The Western Highway forms part of the Melbourne to Adelaide freight route and is a vital link in the freight flow between eastern and central Australia. It provides connectivity with other key freight routes throughout Victoria including the Midland, Sunraysia, Pyrenees, Henty and Wimmera Highways. This investment will support growing agricultural and tourist industries in the region by providing improved access for High Productivity Freight Vehicles and improving the safety and efficiency of the road network.
Works in Tranche 1 include:
- Horsham Junction Upgrade - The Australian Government is committing $4 million towards construction of a roundabout at the intersection of Henty Highway / Western Highway / Golf Course Road.
- Nhill-Jeparit Road Intersection Upgrade -  The Australian Government has committed $1.5 million towards realignment of the Western Highway at the intersection with Nhill-Jeparit Road to increase the distance between the highway and nearby railway line.
- Seaby Street Intersection Upgrade - The Australian Government is committing $3.1 million towards signalisation of the intersection of the Western Highway and Seaby Street in Stawell.
- Scoping and Development - The Australian Government is committing $5.2 million towards scoping and development works to inform works in future tranches.
Benefits
Improved road safety for all road users

Improved connectivity between people with jobs and services, and goods with markets

Improved accessibility and connectivity of road networks
Funding
The Australian Government is contributing $36.9 million towards this corridor.
Timetable
Scoping and development works for the corridor started in mid 2021. Nhill-Jeparit Road Intersection works are complete. Horsham junction upgrade and Seaby Street Intersection Upgrade projects are in planning. Scoping and development works for future tranches is underway.
Project last updated:
Disclaimer: The material contained in this site is made available on the understanding that the Department is not thereby engaged in rendering professional advice for a particular purpose. Before relying on the material in any important matter, users should carefully evaluate the accuracy, completeness and relevance of the information for their purposes and should obtain appropriate professional advice relevant to their particular circumstances.