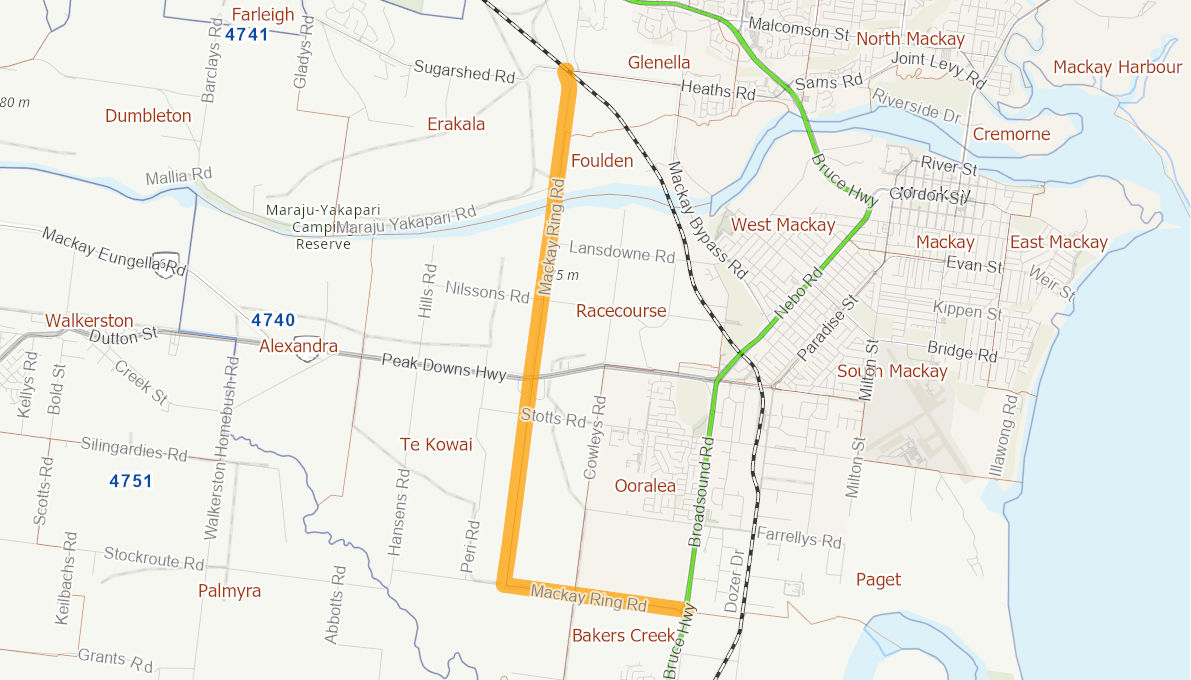 Funding program

Investment Road and Rail Program

Status

Completed

Transport mode

Road

Expected start/finish

Late 2017 - Late 2020

Estimated project cost

$497,300,000

Australian Government contribution

$397,900,000

Local Council/Shire

Mackay Regional Council

State

QLD

Corridor

Brisbane - Cairns
Project description
The project will involve construction of a ring road in Mackay between Stockroute Road and the intersection of the Bruce Highway and Bald Hill Road.  The scope includes construction of:
a two lane, 11.3km, limited access rural highway style deviation from the Bruce Highway at Stockroute Road to Bald Hill Road
major junctions providing strategic connections to existing and future road networks, including connection points at the Bruce Highway in both directions, at the existing Peak Downs Highway and the proposed future Peak Downs Highway alignment
13 new bridges, including major crossings of the Pioneer River and Fursden Creek, which will be built to a one in 100 year flood immunity
nine overpasses of existing local roads and the cane-tramway networks 
The project will also include early works for the Mackay Ring Road - Stage 2 project, including concept designs and construction of two new underpass bridges, as well as entry and exit ramps to connect the Stages 1 and 2 of the Mackay Ring Road with the co-located Mackay Northern Access Upgrade.
Benefits
The Mackay Ring Road – Stage 1 project will enhance capacity, safety and accessibility of the road network in Mackay. It will also reduce accidents and improve travel times by avoiding 13km of low speed urban roadway with 10 sets of traffic signals and over 200 private accesses. It will also improve freight efficiency by reducing travel time for bypassing traffic.
Funding
The Australian Government has committed up to $397.9 million towards the project, in partnership with the Queensland Government.
Timetable
Construction commenced in September 2017, and was completed in September 2020.
Project last updated:
Disclaimer: The material contained in this site is made available on the understanding that the Department is not thereby engaged in rendering professional advice for a particular purpose. Before relying on the material in any important matter, users should carefully evaluate the accuracy, completeness and relevance of the information for their purposes and should obtain appropriate professional advice relevant to their particular circumstances.