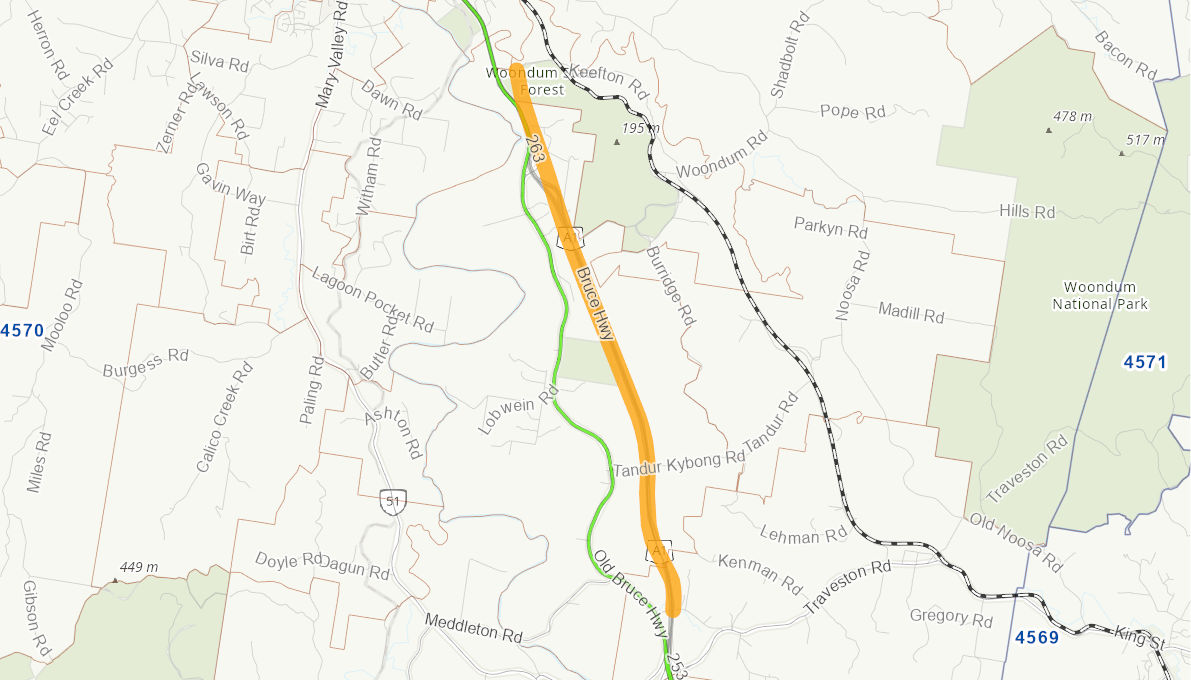 Funding program

Investment Road and Rail Program

Status

Completed

Transport mode

Road

Expected start/finish

Early 2016 - Early 2018

Estimated project cost

$216,752,878

Australian Government contribution

$173,402,302

Local Council/Shire

Gympie Regional Council

State

QLD

Corridor

Brisbane - Cairns
Project description
The Cooroy to Curra Section C project delivered 10.5km of new four-lane divided highway between Traveston Road, where the previously duplicated Section B ends, to Woondum Road, south of Gympie.
The project scope included:
new interchange at Woondum Road;
approximately two kilometres of single carriageway from Woondum Road to connect to the existing Bruce Highway at Woondum;
construction of bridges over Traveston Creek, Kybong Creek, Cobbs Gully and Jackass Creek; and
three new bridges over Tandur Road, Woondum Road and at the Woondum ramps.
The Section C project forms part of the 62km Bruce Highway – Cooroy to Curra upgrade. Section C is the third section of the Cooroy to Curra upgrade to be constructed and will join the completed Section B (Federal to Traveston) to the south at the existing Traveston Road interchange.
Benefits
The project has improved safety for road users by separating local and through traffic on a newly constructed four lane divided highway with wide median, and will provide Q100 (1 in 100 year event) flood immunity.
The project will also assist in maintaining economic productivity, reducing travel times and improving efficiency, route reliability and access to the region.
Funding
The Australian Government invested $173,402,302 towards the Project, in partnership with the Queensland Government.
Timetable
Major construction commenced in early 2016 and was completed in early 2018.
Project last updated:
Disclaimer: The material contained in this site is made available on the understanding that the Department is not thereby engaged in rendering professional advice for a particular purpose. Before relying on the material in any important matter, users should carefully evaluate the accuracy, completeness and relevance of the information for their purposes and should obtain appropriate professional advice relevant to their particular circumstances.