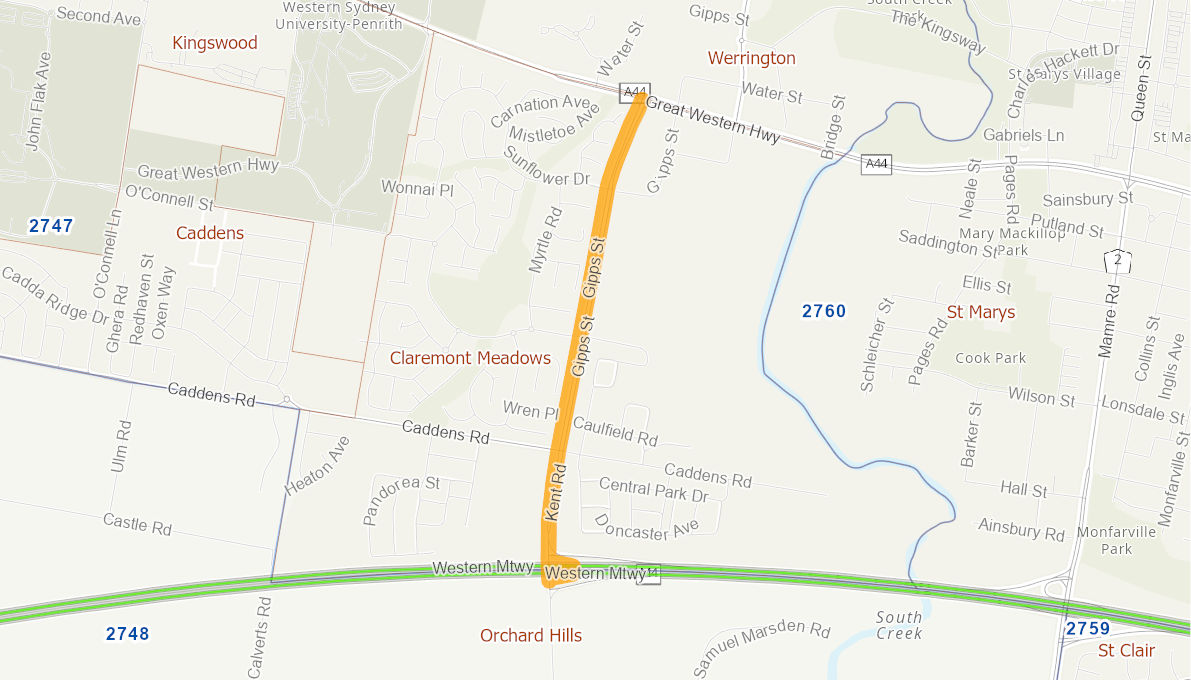 Funding program

Investment Road and Rail Program

Status

Completed

Transport mode

Road

Expected start/finish

Early 2015 - Mid 2017

Estimated project cost

$51,783,992

Australian Government contribution

$25,891,996

Local Council/Shire

Penrith City Council

State

NSW
Project description
This project upgraded Kent Road and Gipps Street to a four-lane dual carriageway linking the Great Western Highway and the M4 Motorway with east-facing entry and exit ramps on the M4. This project upgraded four existing intersections on Caddens Road, Sunflower Drive South, Sunflower Drive North and the Great Western Highway.
Benefits
The project delivered a range of benefits, including:
providing additional north-south road capacity for the growing population of Western Sydney, relieving congestion in existing corridors such as The Northern Road and Mamre Road
improving access for freight from the St Marys industrial areas to the M4 Motorway and Great Western Highway
providing infrastructure for bus services
providing shared off-road pedestrian and cycle facilities.
Funding
The total cost of the project was $51.8 million.
Timetable
The construction contract was awarded to Burton Contractors Pty Limited on 21 January 2015. Construction commenced in 9 March 2015. The project was completed in May 2017.
Project last updated:
Disclaimer: The material contained in this site is made available on the understanding that the Department is not thereby engaged in rendering professional advice for a particular purpose. Before relying on the material in any important matter, users should carefully evaluate the accuracy, completeness and relevance of the information for their purposes and should obtain appropriate professional advice relevant to their particular circumstances.