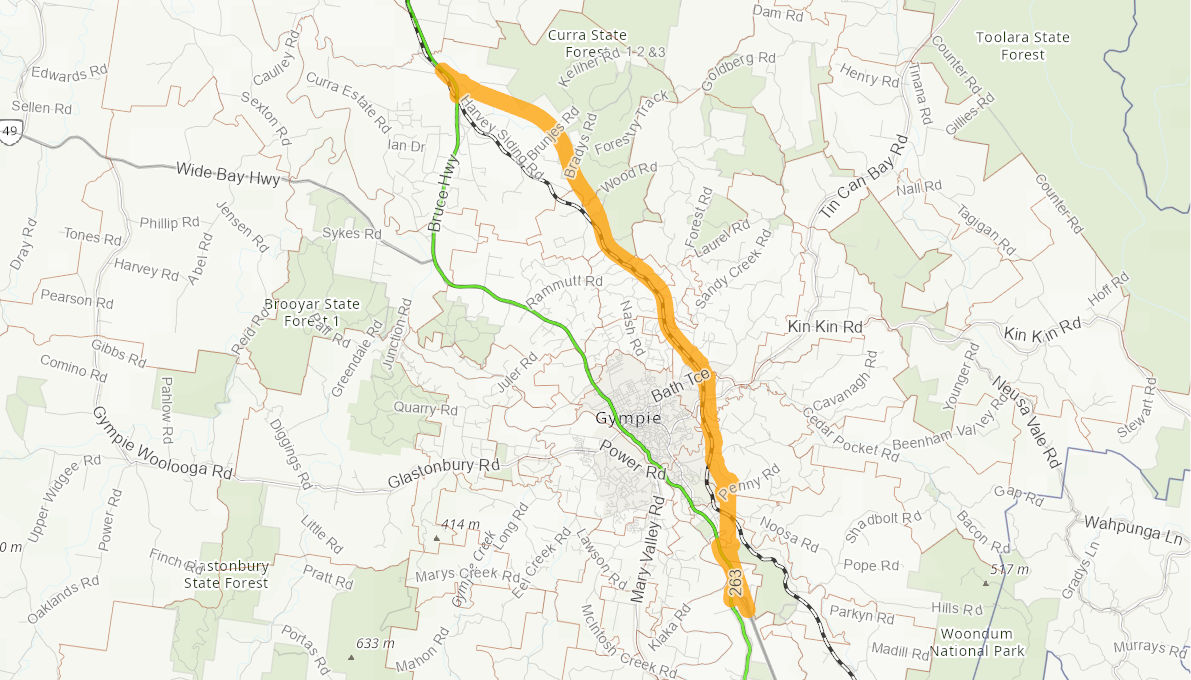 Funding program

Investment Road and Rail Program

Status

Under construction

Transport mode

Road

Expected start/finish

Late 2020 - Late 2024

Estimated project cost

$1,000,000,000

Australian Government contribution

$800,000,000

Local Council/Shire

Gympie Regional Council

State

QLD
Project description
Section D involves the construction of a new 26km four-lane bypass of Gympie, running east of the city. Section D is the final link in the 62km upgrade to the Bruce Highway between Cooroy and Curra, and will connect to the northern end of Section C (at Woondum), with the existing Bruce Highway at Curra, north of Gympie.
Key project features include:
a new four-lane divided highway
bridges over significant waterways, local roads, and the North Coast Railway
interchange upgrades at Penny Road, Gympie Connection Road and Curra
The project builds on the $52 million Australian Government commitment to the $65 million Cooroy to Curra – Section D (Planning and Design) project, in partnership with the Queensland Government, to enable the planning and development of the project, including business case development, detailed design and property acquisition.
Benefits
It is expected this commitment will deliver the following benefits:
removal of 53 at grade intersections (including nine signalised intersection) and 106 property accesses
almost doubling of existing highway capacity between Woondum and Curra
improved flood immunity
increased traffic speeds
separate long distance from local traffic movements
separate opposing directions of traffic
reduce traffic volumes in Gympie CBD, with approximately 50% less trucks
Funding
The Australian Government will provide up to 80% of the project costs capped at contribution of $800 million, subject to Queensland providing 20% of the project costs.
Timetable
The project began construction in late 2020 and will be completed in late 2024, weather permitting.
Project last updated:
Disclaimer: The material contained in this site is made available on the understanding that the Department is not thereby engaged in rendering professional advice for a particular purpose. Before relying on the material in any important matter, users should carefully evaluate the accuracy, completeness and relevance of the information for their purposes and should obtain appropriate professional advice relevant to their particular circumstances.