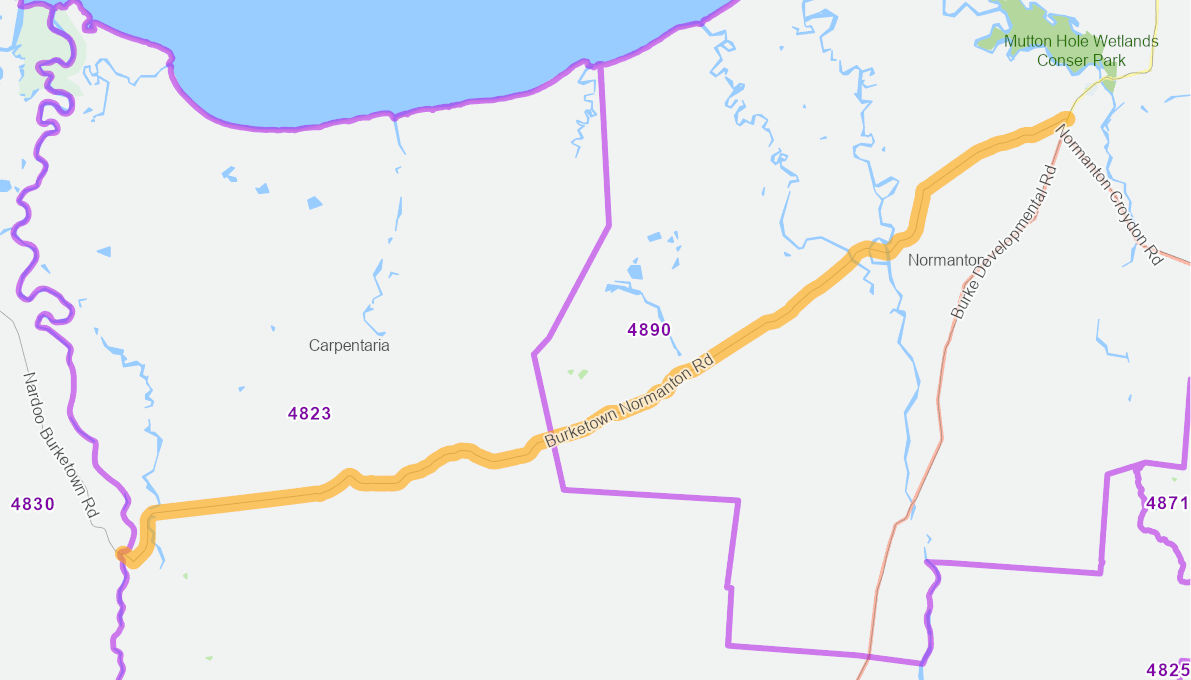 Funding program

Roads of Strategic Importance

Status

In planning

Transport mode

Road

Expected start/finish

Mid 2023 - Late 2026

Estimated project cost

$20,000,000

Australian Government contribution

$16,000,000

Local Council/Shire

Burke Shire Council,Carpentaria Shire Council

State

QLD
Project description
This project will progressively upgrade various high priority sections of Burketown - Normanton Road on the Savannah Way in north west Queensland. Upgrades will include sealing and associated works, such as erosion control, and will be led by Carpentaria Shire Council.
The Savannah Way is an inter-state link across the far north of Australia between Cairns and Broome. Progressing the seal on the Savannah Way will improve connectivity for local communities, improve access to tourist destinations and support exploratory gas and mining activities. This project will provide particular economic and social benefits for local Indigenous communities, where poorer and lower standards of vehicle ownership inhibit travel across unsealed sections of the road.
This project is funded under the Cairns to Northern Territory Border Corridor, under the Roads of Strategic Importance initiative. It will contribute towards corridor-level benefits by improving inter-regional connectivity and access, particularly for local Indigenous communities, and facilitate economic opportunities across northern Australia.
Benefits
Improved connectivity between people with jobs and services, and goods with markets, improved road safety for all road users, and improved accessibility and connectivity of road networks.
Funding
Total funding of $20 million (Australian Government contribution $16 million, Carpentaria Shire Council Contribution $4 million).
Timetable
This project is expected to commence construction in mid 2023 and be completed by late 2026.
Project last updated:
Disclaimer: The material contained in this site is made available on the understanding that the Department is not thereby engaged in rendering professional advice for a particular purpose. Before relying on the material in any important matter, users should carefully evaluate the accuracy, completeness and relevance of the information for their purposes and should obtain appropriate professional advice relevant to their particular circumstances.